Emma Glendinning and Sarah Dhillon, both founded Sunshine Cove Preschool in 2012, after working together as a team for the previous four years at North Shore Child Care.

Emma completed her Early Childhood Education Certificate in 2008 and Sarah in 2005 from Capilano University in North Vancouver, BC. During the four years of experience together we learned what we believe were valuable skills and stepping stones to knowing what we would like to see in our own school for the future.

We believe that all children deserve love, attention, and nurturing. We believe that a safe environment allows children to explore and grow. At Sunshine Cove Preschool, we allow children to have hands-on learning experiences. This fosters age appropriate development. We will encourage all their interests to be engaged and explored thoroughly through fun and interesting program planning. We believe that positive reinforcement is important for children to develop self-esteem. Children need an environment that supports free expression and stimulates learning. Most importantly, however, we believe that children need to have fun!

At Sunshine Cove Preschool, we make sure that every child is involved in stimulating activities everyday. And of course, we make sure they have fun! Children learn best when they are having fun! At Sunshine Cove Preschool we recognize that parents have a difficult schedule and support parents the best we can. We offer two options: a two and a half hour morning class and an extended four hour afternoon class. We recognize the importance of work, and the stress and demands placed on parents. We strive to make it easier on parents by giving them the knowledge that their children are in good hands.

Both of us being the owners and educators pass many rigorous licensing procedures. We are licensed in British Columbia. Our continued professional development through conferences and workshops allows us both to be up to date and open to many different types and levels of experiences to provide inspiration for our program planning. Come by for a tour and experience the difference a little Sunshine Cove Preschool can make for your whole family and child(ren)! We look forward to meeting you and your family!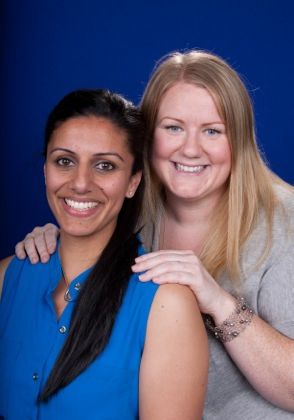 Emma Glendinning and
Sarah Dhillon
Owners and Operators,
Sunshine Cove Preschool Inc.